We accept the request for production of nanofiber products on the contract basis by our proprietary production facilities.

• Preliminary Test
It is necessary to test whether nanofiber production is possible or not from the material which customers plan to use.
• Product Specification
Product specifications are decided through the dicussions with customers. For the matrix sheet, not only commercial nonwoven fabric or filter but also customer's original matrix is usable.
In the case of the sample less than 10cm in size, or nanocoating/micropattening test on the substrate, we deal with it by the lab machine.
• Delivery Time / Price
Delivery time and price are quite different according to material, fiber diameter, thickness of fabric, sheet size, ...etc. We will make enough consultation beforehand.
• Nondisclosure Agreeent
When the customer's original material is used, we can conclude the nondisclosure agreement.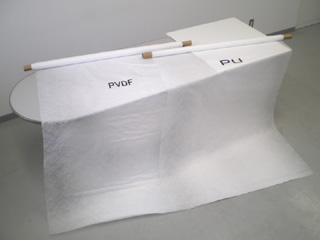 Polyurethane(PU) and PVDF nanofiber roll sheets of 1.5m width
manufactured by Esprayer high-speed production model.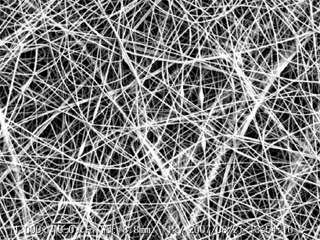 SEM image of PAN nanofiber manufactured by Esprayer high-speed production model.
EsprayerTM; High-speed Production Model

Further information about contract-production -> Contact Us